Once again I am joining in with Sunday letters to my family. Thanks for sharing this great idea, Deirdre!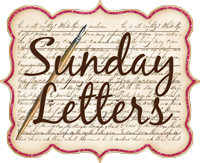 Dear Cailin,
You have looked so grown up to me this week, especially with your hair curled and piled up on your head. I love seeing you grow, but oh, how I miss that chubby cheeked toddler who giggled and ran around the house in circles.
Driving you and your friends home from the movies Friday, it dawned on me that this is such a fleeting stage. I need to hold on to those loud giggles and singing (shouting?) from the back seat. Soon enough you will be driving your selves everywhere, and I will miss those conversations and laughter. Oh, sweet girl, I love middle school and don't want it to end! I'm so glad you were able to see the Justin Bieber movie, and tickled that we ran into Danie at the theater. What a bonus to add an unexpected friend to our numbers.
I love you and I love being with you.
Mommy
-----------------------------------------------------------------------------------------------------------
Dear Cassidy,
Wow! You did it! You convinced us that we must have another dog, and Sadie will soon be sharing her princess throne with Mia! Thank you for your great attitude when asked to walk Sades. I know you really want to prove your responsibility to us, and we are thankful for your effort. Consider yourself warned- there will be lots more when Mia comes home- ha!
I loved seeing you work through your anger with Cailin this week. It has to be hard to be sisters so close in age with such different personalities. You both want to be best friends, but it's hard to remember that when fighting over the wii, or t.v., or hair accessories, or clothes, or the way you look at each other. Yikes! The song you wrote her is precious, and I love your willingness to share your heart with her. You amaze me, really, and I am so thankful God blessed me with you.
I love you sweet thing!
Mommy
-------------------------------------------------------------------------------------------------------------
Dear Rusty,
I am so thankful things have quieted down slightly for you, even knowing it is the eye in the storm. God has brought me so much peace, and I hope you feel my support and pride.
Thank you so much for letting us add another dog. You absolutely spoil us all, and I love knowing that you would give us anything to make us happy. I hope you know we feel the same way about you!
I love that I left for the movies with 2 girls and arrived home with 5, and you didn't bat an eye, but just helped me tidy guest rooms and inflate air mattresses. Getting them all to rehearsal the next day on your own, while I went to buy the dog you don't even want, well that is above and beyond! You are a rock star Daddy. (I love the friends comment at breakfast that it was like being at a hotel... you do know how to put on a breakfast spread for your girls!)
Thank you for being such an amazing husband and Daddy. We love you!
Me